Communitee
More than Conquerors
by Wannabe Store on Feb 06, 2023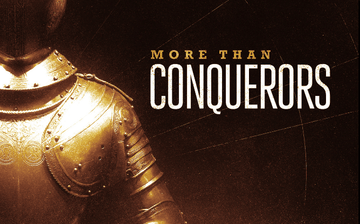 More than conquerors. This message is for you to know that you have not just achieved victory, but you are overwhelmingly victorious through Him. Isn't this a joyful proclamation that could be given to those who are out there, sitting in defeat and agony in life? 
Bible says, " We are more than conquerors through him who loves us." This is a reminder that the Lord fights for you. This particular phrase doesn't mean that we have conquered but that we "keep on winning a glorious victory." The truth is that even when things are not right in our lives according to what we expect, we are still "more than conquerors" and there is always strength  given to us to live out such a life, in spite of how things look like or how we feel about our state.
This experience is not just when you have faced some carefree and trouble-free life but a victory that you have experienced even in trouble and pain. Jesus Christ died for us on the cross and shed His blood to redeem us and no one can undo what He did for us. And hence, we are victorious over those who proclaim failure and unworthiness over us. This victory lies in Jesus who continues to strengthen us in all circumstances.
In this world where we are not free of suffering, this Tee is a great reminder that we are privileged to come to God as a child does to a father, and we will receive the strength that we need to face the day. Just like a conqueror's legitimate heir doesn't have to be worried about their stats so do we who are his children do not have to worry about the battle, for we have won it through Christ Jesus. Let this be a message we share to others to cling on to the promise of God and the work he has completed to give us victory. 
Feel free to reach out to us for any relevant resources and ideas you need on this through your order ID, we will be happy to hear from you and support you, God Bless You!